Jungle Animals (Earth) Basic Tee
Regular price

Sale price

$28.00 USD

Unit price

per
introducing our Organic American Milled Cotton Spandex Basic Tee – Your Ultimate Wardrobe Essential!
Product Title: Handmade Organic Cotton Spandex Basic Tee (Long/Short Sleeves)
Product Description: Elevate your everyday style with our Handmade Organic Cotton Spandex Basic Tee, a versatile and sustainable addition to your wardrobe. Crafted with care from the finest American milled organic cotton blended with just the right amount of spandex, this tee offers unbeatable comfort, durability, and a perfect fit.
Key Features:
Organic American Milled Cotton: We believe in supporting local and sustainable practices. That's why our basic tees are made from 100% organic cotton, sourced from American mills. This ensures premium quality and a minimal environmental footprint.

Comfortable Stretch: The addition of spandex provides a comfortable stretch that moves with you throughout the day. Whether you choose the long or short sleeves, you'll enjoy a flexible fit that's perfect for any activity.

Handmade with Care: Each tee is carefully crafted by skilled artisans who take pride in their work. Our commitment to handcrafting ensures attention to detail and a superior finish.

Versatile Style: The classic design of our basic tee makes it a timeless addition to your wardrobe. Dress it up or down – it's the perfect canvas for your personal style.

Long or Short Sleeves: Choose the sleeve length that suits your preferences and the season. The long sleeves provide extra warmth and versatility, while the short sleeves are ideal for warmer days.

Ethical and Sustainable: We're dedicated to ethical manufacturing and sustainable practices. Our tees are made with love and care, ensuring that you can feel good about your purchase.

Easy Care: Our tees are easy to care for – simply machine wash on cold with like colors and lay flat to dry/ tumble dry on low. 
Size Options: Available in a range of sizes to suit every body type, from 0/3M-6T
Upgrade your wardrobe with a tee that not only looks and feels amazing but also supports ethical and sustainable fashion practices. Whether you prefer long or short sleeves, our Handmade Organic Cotton Spandex Basic Tee is the perfect choice for comfort, style, and a cleaner planet.
Invest in quality. Choose sustainability. Elevate your basics with our Handmade Organic Cotton Spandex Basic Tee today!
Note: Due to the handmade nature of this product, slight variations in color and texture may occur, making each tee unique.
Add to cart now and experience the difference of organic cotton spandex craftsmanship!
Please do not leave children or babies unattended while wearing any of our products. 
Share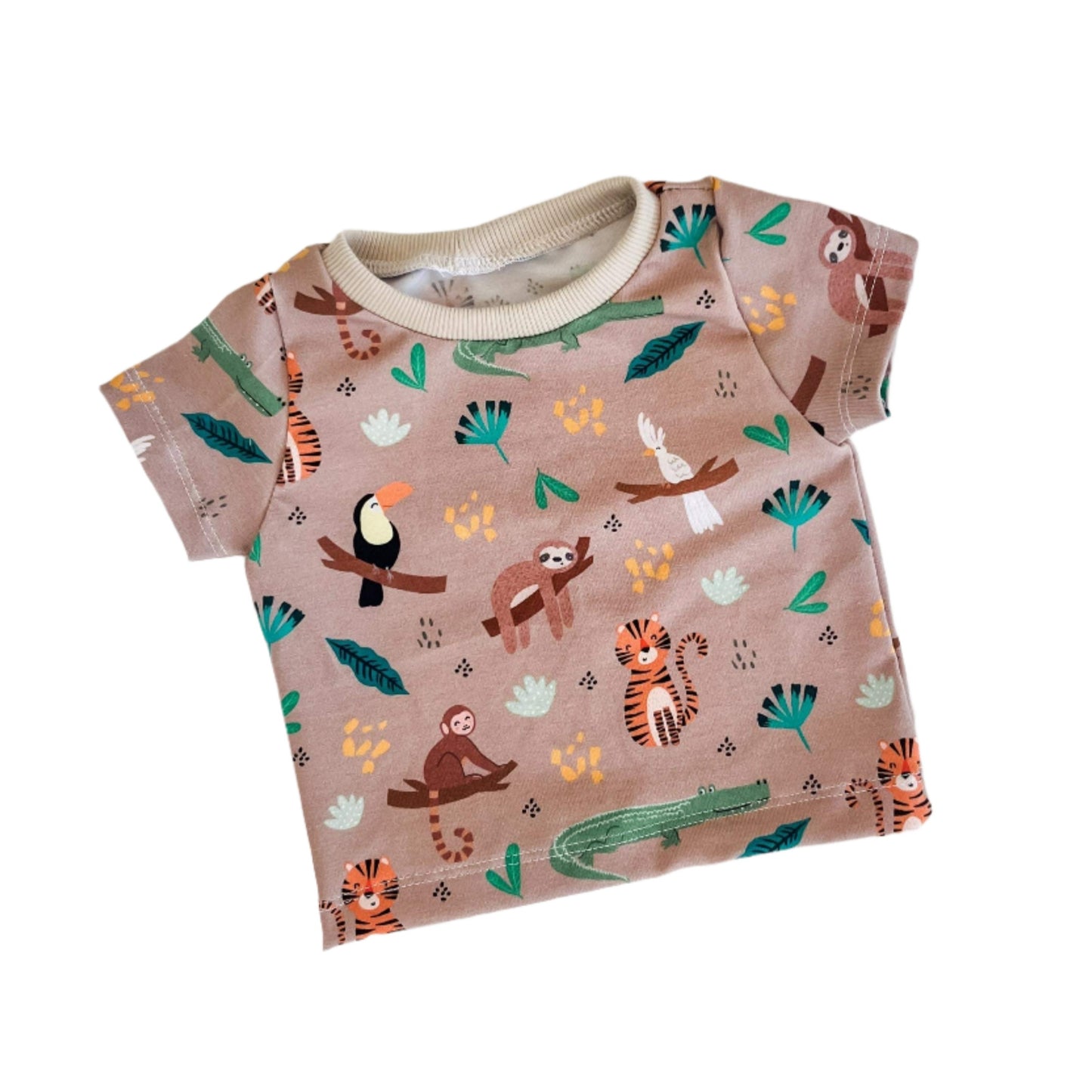 Product Safety
Children's safety is the top concern here at Hartt Designs. We want all of our precious babies to dress their HD best, but never at the expense of their health.
Always have adult supervision when a baby is wearing a bow or headwrap. A child can easily pull a bow down around their neck if left unattended. NEVER leave a bow/headwrap on a child in a car seat, especially while rear-facing.

Always remove bow/headwrap from the child before placing in a crib, bed, or playpen to sleep or play unsupervised.